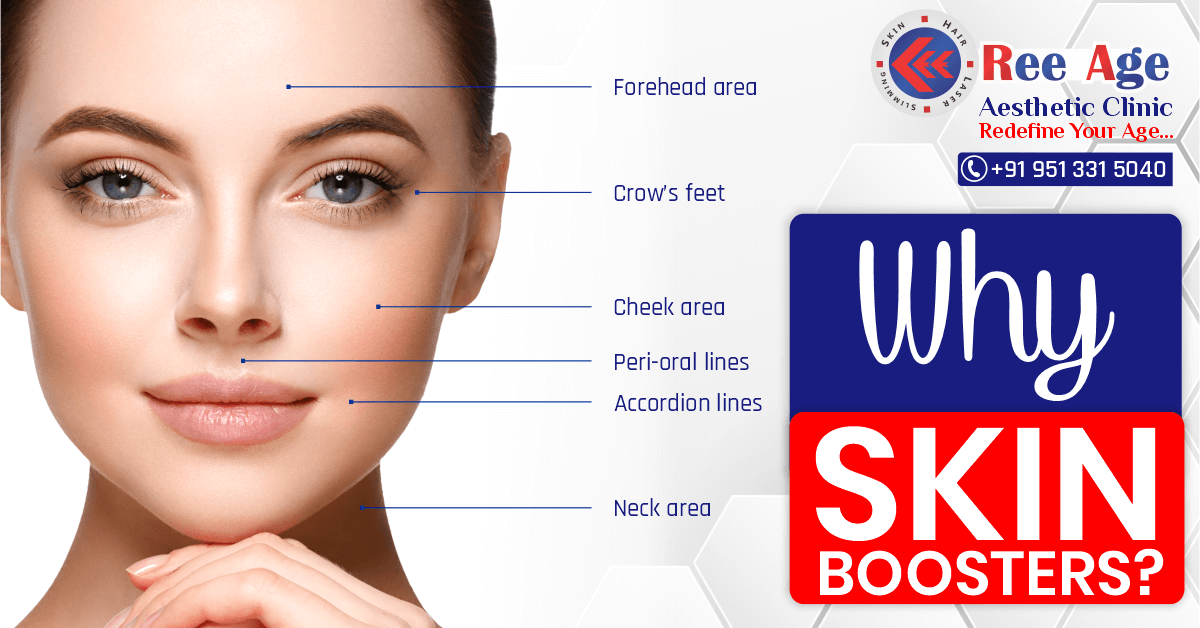 Why Skin Boosters? Skin Boosters treatment in Bangalore at ReeAge
The science behind the original first Skin boosters
Skin boosters  – A fresh approach to skin rejuvenation, designed to deliver hydration and improvements to skin imperfections resulting in radiant healthy skin
What happens with the skin's hydro balance as we age?
Hyaluronic acid is a natural substance in our bodies. It can bind huge amounts of water and keeps our body tissues hydrated, soft & flexible. From the age of 28, we lose around 1% per year of the hyaluronic acid in our skin. With time, or due to exposure to environmental factors, our skin may become dry, fine lines and wrinkles may start to appear and the skin can lose its natural radiance.1 It is often difficult to restore the skin's inner hydro balance by using creams that are applied on the skin surface. To hydrate and improve skin quality from within you need treatments that have a long-lasting effect below the skin surface.
Restoring hydration and skin quality from within
Natural hyaluronic acid in our bodies forms long molecular chains. This naturally occurring hyaluronic acid forms and degrades quickly, in 24-48 hours.  Skin boosters contains hyaluronic acid that has been stabilized with a cross-linking technology so that it does not degrade at the same rate. As a result,  Skin boosters will provide a long-lasting hydrating effect in your skin.
By injecting microdroplets just below the skin surface,  Skinboosters restores the natural composition of the skin, boosts hydration & improves elasticity.
Why skin boosters?
Hyaluronic acid is a natural component of your skin that keeps it hydrated and soft. With age, or due to a harsh environment, the hyaluronic acid content in your skin may decrease, and your skin may lose some of its elasticity and hydration.  Skin boosters restores the natural composition of your skin. It boosts skin elasticity2 and you will notice a reduction of skin roughness3. Your skin becomes smooth and hydrated for a refreshed and healthy look.
Skin boosters
Fresh products can help to gradually improve your skin's condition, increasing elasticity, and reducing fine lines and imperfections. A refreshed look can be achieved with Skin boosters treatments and  Skincare line.
Feel the difference in your skin
Do you wish for skin with a radiance and smoothness that you will see, feel & love? Skin boosters will make you feel great about your skin again.
After a few treatments, as advised by your practitioner you'll find that your skin will become smoother, more radiant, and more elastic. The skin of your face, hands, neck & décolletage can be improved. The results can make a world of difference to the way you feel about your skin.
 Skin boosters have been used by aesthetic physicians for over 12 years and over 3.5 million treatments have been performed at that time.
Injections are typically administered over the course of 2-3 treatment sessions, 2–4 weeks apart, to restore your skin's elasticity and smoothness in a gradual way.
Regular maintenance sessions (approximately every 6 months) occur as planned with your practitioner ensuring lasting results.
Clinical studies prove the lasting impact of a  Skin boosters treatment with improvement in skin elasticity of the face and hands for up to 12 months after the initial treatment.
Treatment areas
Skin boosters is a versatile and effective solution for skin concerns in the face, neck, décolletage & hands.
Skin boosters in Bangalore
Skin boosters in Hyderabad